The first time I ever realized that cats were capable of doing tricks was way back in ye olden days of my babyhood when my family was still in the circus. There was a woman whose act consisted entirely of leading her cats through a precious, tiny little cat-sized obstacle course. *Insert high-pitched, ear-piercing "awwwwweeee"*. Of all the things I'd ever seen in the circus up to that point, that act was just the cutest, most magical thing my wee little eyeballs had ever beheld.
Fast forward to a few years ago, during my brief stint assisting The Amazing Acro-Cats while they were on tour in Phoenix. Besides simply providing entertainment, the show itself is meant to prove that cats can learn novelty tricks and useful commands, and spread awareness about shelter cats who are in need of homes by showcasing all the wonderful things they can do. As it turns out, cats are as eager and willing to jump and roll over just as much as Fido!  Well, you know, with the right incentive, of course.
Introducing CatGenie
The World's Only Self Washing Cat Box
Click here and never touch cat litter again!

Clicks For Tricks
The first step towards training your babe is investing in a clicker. This is the ultimate tool you will need in order to get your cat to respond to your commands. To begin, simply click your clicker and give your cat a treat. Yup, that's it. What you're really doing is establishing somewhat of a Pavlovian effect – conditioning your cat to build an auditory relationship to being rewarded. Over time, your cat will associate the clicker with the promise of a treat, and she will want to do whatever she can to acquire it. Normal treats aren't working? Purchase something extra special – something particularly fragrant and flavorful that Fuzzball hasn't had before. This will be more likely to motivate her.
Since we're talking treats, let's keep this in mind: cats respond to positive reinforcement. They do NOT respond to punishment. So please, don't attempt to punish your cat throughout the process of training them! Scolding and punishment create stress, and when a cat is stressed, she is more likely to participate in problematic behaviors, including litter box issues. Yikes!
Start With The Basics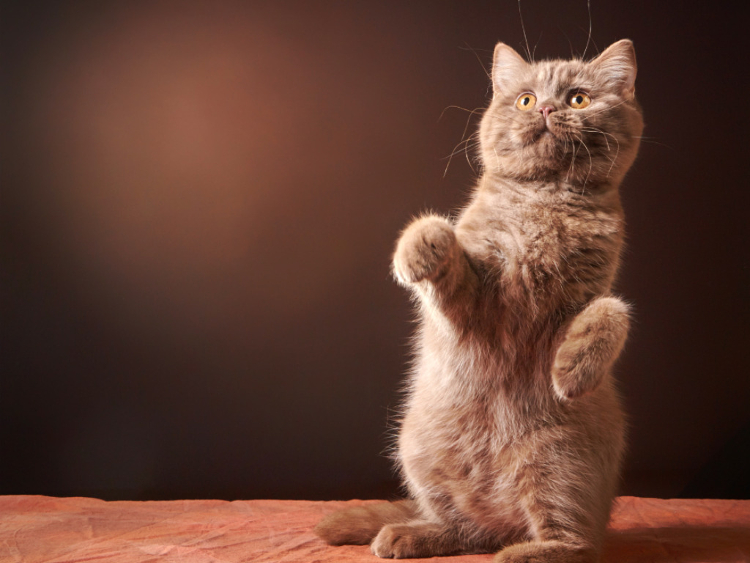 To teach your cat to sit, get her attention with a fancy treat. Hold it in front of her so that she may easily see and smell it. When you're sure she's focused on the treat, slowly begin to raise it above her head. Her natural inclination will be to lower herself into a sitting position and stay there until you give her the treat. After you do, make sure to use your clicker to show her that she's done a good job.
Another useful command is to train your cat to come when called. Of course, shaking a bag of Temptations and yelling "treat" is a surefire way to do so – at least, it is in Casa de Keane.  Eventually, your cat will know the word "treat" and come running when she hears it. The caveat, of course, is this: you have to be ready to fulfill your promise! Keep treats on hand and make sure to positively reinforce her behavior by using your clicker to assure her that she's done what you've asked.
Lastly, for something fun, why not teach Mr. Boots to be a proper gentleman and shake hands? Gently place a finger on top of your cat's paw until he begins to lift it upwards. Take his paw into your hand slowly and gingerly, shaking it very carefully. Give him a treat while you do this to ensure his future cooperation. This trick, in particular, may be tougher than others, depending on whether or not your cat is finicky about having his paws touched. Remember – there is no rush! Let him learn on his own time.
Tips On Tricks
A few pointers to remember while you're training your cat: be patient, be consistent, and practice, practice, practice! Your cat may not always be in the mood for a training session, and that's okay. Don't force her to do anything she's not feeling up for. While cats are trainable, they're still cats, and everything operates on their time. You will also want to make sure you're focusing on one trick at a time, so not to confuse or overwhelm your cat.
Additionally, don't expect your cat to "get it right" 100 percent of the time. If Fluffy doesn't come immediately when called, doesn't lower herself all the way into a sitting position, or doesn't lift her paw up for handshakes immediately, reward her for at least trying. If you do this, she will get better!
Lastly, if you're really gung-ho about training your cat, consider investing in the Circus Cats Training Kit! You can get a clicker, pointer, and a DVD full of useful tips and tricks on how to train your cat. Who knows, maybe your very own Mister Meatball will be as famous as the Circus Cats one day?
Save
Save
Save
Save
Save
Save
Save
Save