Need help cleaning your CatGenie? We created a step by step video to teach you how.

Your CatGenie is like any other cleaning appliance in your home, except instead of washing dirty dishes, it removes your cat's poop. So it shouldn't surprise you that it needs to be cleaned, manually (that means by you, by hand).  The good news is that we recommend our customers clean their unit only twice a year (at 15 minutes a cleaning, that's only a half hour of your time every year!) In this video we demonstrate each part of the simple, 10 step process.  If you are able to go outside and clean your unit, great! If it is not a beautiful day or you don't have access to a yard or outside water source, don't panic.  These steps can also be preformed in your bathtub or shower.
Shop CatGenie Supply Combo Packs
Get the BEST value on the CatGenie Supplies you need at CatGenie.com

The first part of the video shows you the best way to disassemble the CatGenie.  Be careful when removing the Genie Hand.  Make sure you retract and secure the arm into place. WARNING: failure to retract the arm when removing the brim can cause the arm to bend.  Also note that water can sometimes rest inside the drain hose after a cycle.  When you lift the hook from your toilet or the hose from your washing machine drain, keep it level to prevent any leftover water from spilling on to the floor.
Once outside, be careful to place your Genie Hand and scrubber out of the way so they do not accidentally get stepped on (This is the number 1 reason people call us in need of a new Genie Hand).  Also be sure when removing the hopper, that your red washer stays in place and does not go missing.
Why bleaching your CatGenie is a bad idea.
We recommend cleaning the CatGenie with a gloved hand, scrub brush or toilet brush (no wire bristle brush needed, this will only scratch the plastic) and a paper towel or rag. Plain old soap and water works best. We use dish soap but an all natural cleaner or just water works too.  Even if you see or smell cat poop do not freak out and go over board on the cleaner.  Caustic cleaners like bleach should not be used on the CatGenie. Caustic materials will damage the plastics of the unit.
Finally when you're ready to reassemble your unit, make sure the scrubber is placed correctly (it should be placed loosely under the bowl, NOT around the rubber nipple in the middle.)
Remember to reprogram your unit after you have finished with assembly. And now you are done! Your CatGenie is good to go for 6 more months. Running a quarterly maintenance cycle is also recommended to prevent lime and grime deposits from forming.  But a maintenance cycle will NOT do the job of cleaning the entire CatGenie like an annual cleaning will.
Did we leave anything out? Have additional questions? Let us know in the comments below.
Save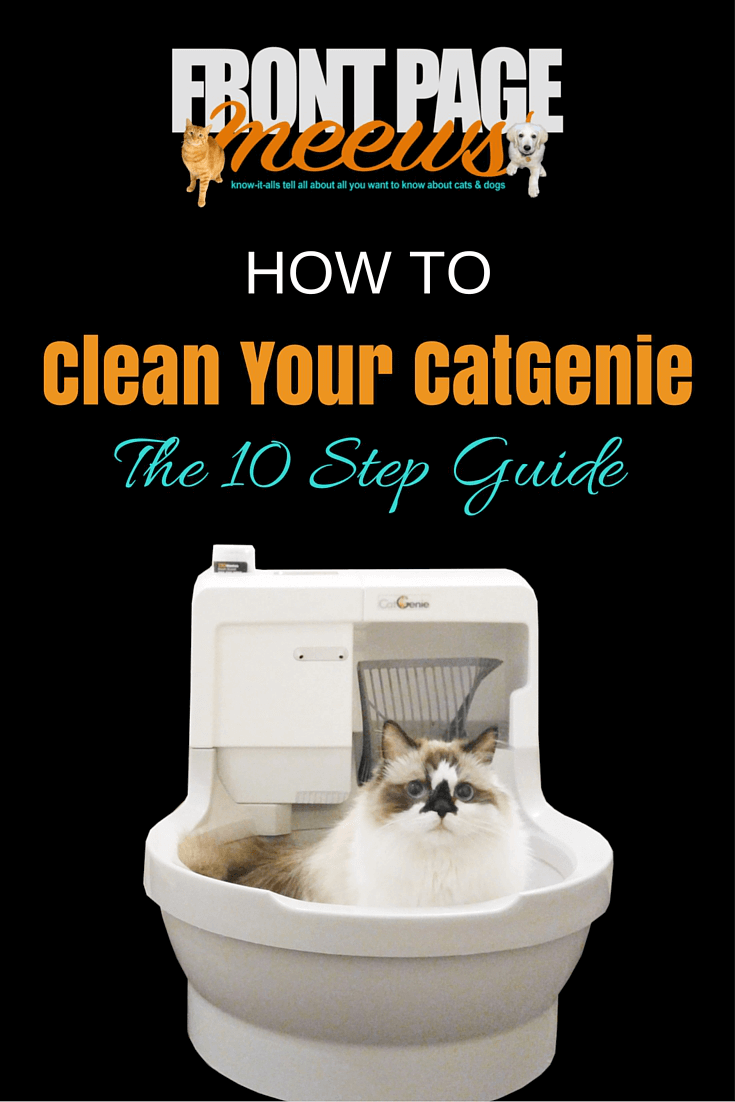 Save
Save
Save
Save
Save
Save
Save
Save