I'm an old-school Game of Thrones fan (yeah, I actually call it A Song of Ice and Fire) which means that this story begun by George R. R. Martin and adapted by HBO takes up a not-small portion of my brain. Periodically, that part of my brain gets tangled up with cats – probably because I spend every day of my life tangled up in cats! Sometimes that means I name a kitten Daenerys; sometimes I wonder which cat breed each Great House would be; sometimes I spend an afternoon Googling cat lookalikes for all the major characters.
This is what happens when I do.
Introducing CatGenie
The World's Only Self Washing Cat Box
Click here and never touch cat litter again!

JON SNOW, NORWEGIAN FOREST CAT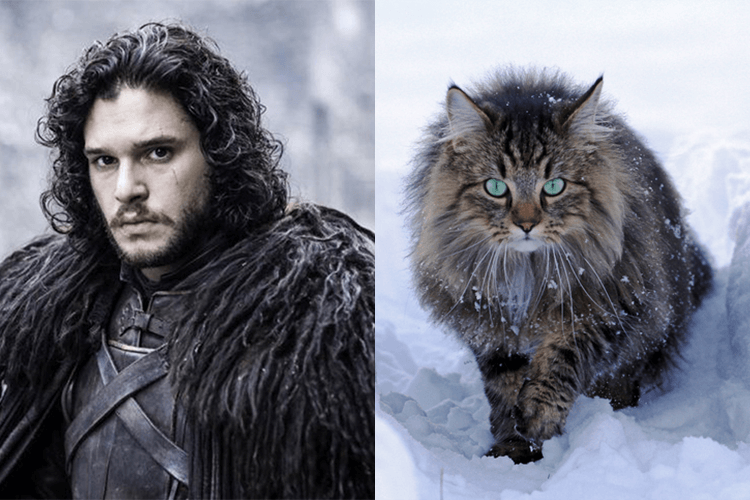 Shaggy, earnest, looks good in black – and cute to boot! Jon Snow is the quintessential Norwegian forest cat, and you can take that to Castle Black. This feline embodies that whole "Winter is Coming" thing, and knows exactly what to do with it: meet it with a long, handsome coat while hanging out by the fire with their Night's Watch brothers (er, their favorite people, anyway). Prone to short bursts of activity like crazy ranging beyond the Wall into WTF territory (that's White Walkers, Terrible Things, and Free Folk), the Norwegian Forest Cat follows this up with playing dead, no stabbing required. (Norwegian Forest Cats like long naps is what I'm saying.) Jon has been our longtime favorite sad boy in snow, and we don't see that changing any time soon – even if his last name definitely has!
ARYA STARK, VENUS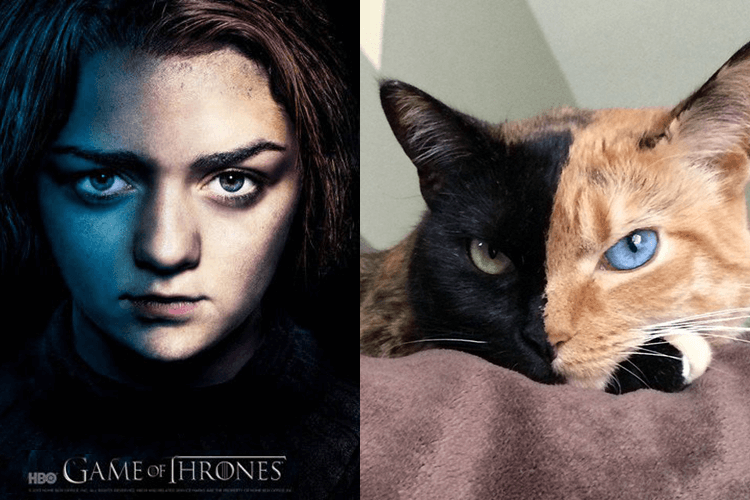 How many faces should one person (or cat!) have? With Arya Stark and Venus, the answer is more than one. Hey, don't act like that freaks you out – you know you were cheering Arya on back at the Twins when she avenged her family on Walder Frey and his brood of villains. And Venus the Two Face Cat with her enchantingly divided face is cute as hell. Venus was born in North Carolina before heading south to a state surrounded by water – I'm not saying Florida is Braavos, but you know – Braavos has Faceless Men, and we've got Florida Man. …I think Arya might be better off in Westeros, with a bunch of ice zombies about to come down on her head.
DAENERYS TARGARYEN, SILVER TABBY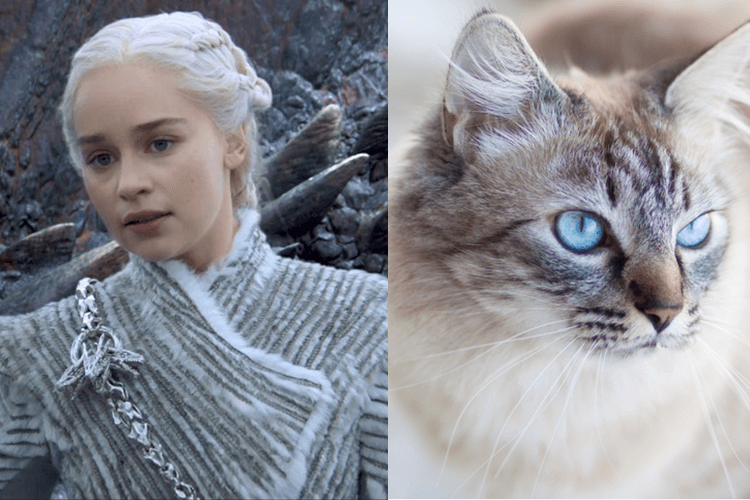 Daenerys isn't just the (hopeful) future Queen of the Andals and the First Men, Lady of the Seven Kingdoms, and Protector of the Realm – she's the fashion queen of Westeros! I mean, did you see the gorgeously striped fur riding suit she wore on her "here comes the cavalry!" charge with Drogon, Rhaegal, and Viserion (sob) beyond the Wall? When it comes to her piercing beauty, only this silver-white tabby with blue eyes can compare. Blue eyes in cats are rare as Targaryens – they both keep popping up out of nowhere. (Book-readers know what I'm talking about.)
CERSEI LANNISTER, ABYSSINIAN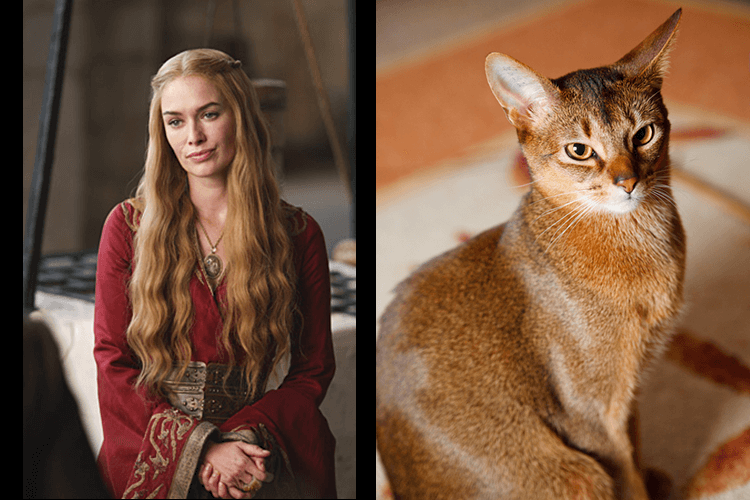 Golden, demanding, and purebred (so not adverse to a little inbreeding), Cersei Lannister is the Abyssinian of Westeros. She's beautiful, but it's really best you not take your eyes off her for one moment – there's no telling what she'll get up to. Climbing cat-trees (or furniture you're not supposed to be on (BAD KITTY, GET DOWN FROM THERE!) isn't so different from climbing the Iron Throne (BAD CERSEI, GET DOWN FROM THERE!), though Abyssinians probably murder less. Spirited and relentless, Abyssinians will take whatever they fancy – which has earned the breed the nickname "Aby-grabby." The phrase for this in Westeros is "Cersei of the House Lannister, First of Her Name, Queen of the Andals and the First Men, Protector of the Seven Kingdoms," in case you were wondering.
TYRION LANNISTER, LAPERM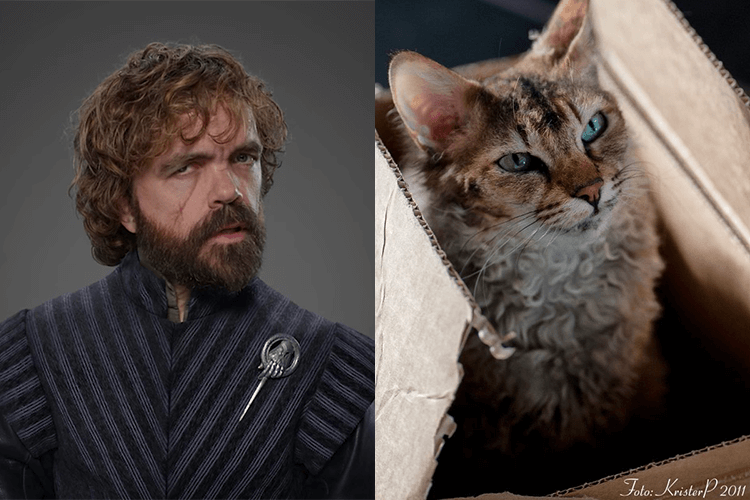 Small, born weird, covered with shaggy curls, and clever as hell – Tyrion Lannister has a lot in common with the LaPerm breed! Except Tyrion drinks more. Like, way more. The LaPerm may not overindulge in really old grape juice, but they do know things: this is a breed that's known for opening doors, learning tricks, and gently tapping its person to get their attention. Show Tyrion a little affection and loyalty and watch him follow you back to a continent where his family wants to kill him. He'd purr through it all if he could, but he's just a man and valar dohaeris. The LaPerm will just have to purr for him. They also both literally end up in boxes, though at least the LaPerm hangs out there without being shipped to Essos.
We only have room to share these five today, so hit the comments to tell us your favorite characters and share the cats who look like them! Think we can play this game of cats until next season? We need the distraction.
Save
Save
Save
Save
Save
Save
Save