Cat parenthood for some is a way of life.  I will often show people – strangers – pictures of my cats, unprovoked. Like, yes, these are my babies, they are very smart and talented and beautiful, I'm so proud of them. If your love for your cat is one of the most prominent guiding forces in life, I've got great news for you; you're in good company! From A-list actresses to chart-topping pop stars, there are quite a few famous cat moms out there who very proud of their sweet baby felines.
Katy Perry – Kitty Purry
It's no secret that Grammy-nominated pop star Katy Perry has an extensive history of loving cats. She's always had that "Josie And The Pussycats" vibe, and in 2010, she even released a cat-themed perfume line called "Purr", which offers a variety of scents and comes in a purple, cat-shaped bottle (obviously!) To date, she has one precious feline baby named Kitty Purry. It is said that, while on tour, Katy Perry missed her beloved cat so much that she requested her management to bring her a "stand-in" cat to keep her company until she got home to her number one man. We know the feels, Katy.
Introducing CatGenie
The World's Only Self Washing Cat Box
Click here and never touch cat litter again!

Halle Berry – Real Life Catwoman
Prior to the filming of the 2004 movie Catwoman, Halle Berry considered herself a dog person, but all of that changed when she met her costar, Play-Doh. "I used to be a dog person. I had dogs my whole life. And in making this movie, I learned to really respect and love cats from the research and work I did with them," she states. After the filming was completed, she was so enamored with Play-Doh that she ended up adopting him! A happy ending after all.
Cameron Diaz – Dressed To The Nine Lives
Hollywood actress Cameron Diaz has a special little guy in her life, aptly dubbed "Little Man"! And just as she likes to be dressed well for every occasion, so does Little Man. It is said that Diaz has, on more than one instance, been spotted clothes shopping for – you guessed it – her cat! Maybe soon we'll be seeing him walking the red carpet with his mom!
Taylor Swift – Mother Of Two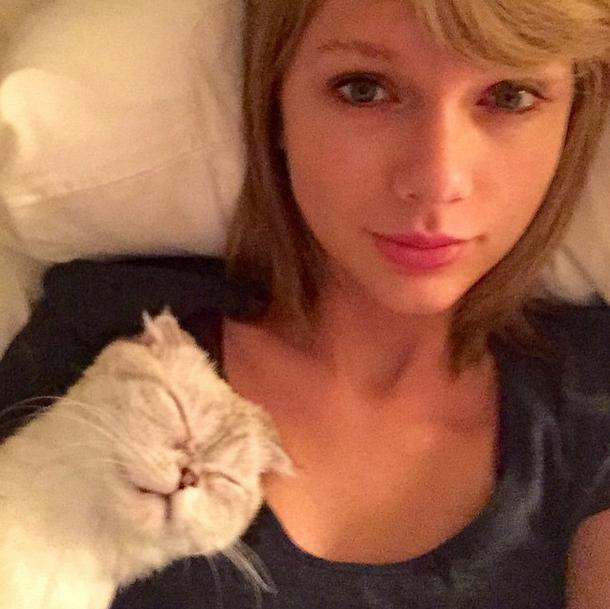 Taylor Swift, another self-proclaimed cat lady, is the real deal when it comes to cat parenthood. Her two girls, named after fictional TV star Dr. Meredith Grey and, my own personal hero, Detective Olivia Benson, are the loves of her life, and there are pictures to prove it. After all, every cat mother knows that keeping your kitties living in the lap of luxury is a top priority.
Kesha's Cat Cult
Pop star Kesha is not only a cat-lover, but an activist as well. In 2013 she won the distinguished Wyler award for animal rights activism after penning an open letter encouraging a ban on animal testing in the cosmetic industry. She has also been very vocal about her disapproval of Canadian seal clubbing as well. Heck yeah, Kesha! Additionally, she has recently described starting a "Cat Cult" for people who love – and want t0 be – cats. Intrigued? Careful though; part of the "hazing" for initiation into the cat cult involves eating glitter mixed with… kitty litter? Yeah, please don't do that, friends. Muy no bueno for your digestive system. Her precious kitty is a stunning Siamese baby named Mr. Peep$, and you can keep up to date with his adventures on his twitter page. If you wanna catch this handsome boy in action, I've got ya covered: in 2013, this sweet man made his acting debut in Kesha's "Crazy Kids" music video!
What's not to love about all these famous cat moms and their precious kitties!? And these are just a few! If you'd like to know more about other famous and historical cat lovers, there is a wealth of info out there to help get you started. Some of the results may surprise you, and you may even gain a newfound respect for these prominent figures.  From Dolly Parton, to Elizabeth Taylor, to Salma Hayek, cat motherhood is proven to be a most beloved and universal experience. Happy Mother's Day, cat moms!
Save
Save
Save
Save
Save
Save
Save