By now many of you have already learned of the boundless joys of Cat Cafes and may have even payed a visit to one for your daily dose of cuteness. But what if I were to tell you that there is a magical place where almost every cafe is a cat cafe? Prepare thineself this instant, friend, because such a place does indeed exist.
This past spring I had an opportunity to travel around Europe and like my own cat chasing a laser beam, I hurtled after it with eagerness and determination. One of the stops on this trip was Amsterdam, Netherlands. Now, the first thing I learned about Amsterdam is that much of the tourism points are centered around The Devil's Lettuce and the Red Light District. Which, I mean, if that's your thing then yeah, go for it I guess? However, I was pleasantly surprised to learn that the city had much more to offer than just that. This city had CATS. And an abundance of them, at that.
Introducing CatGenie
The World's Only Self Washing Cat Box
Click here and never touch cat litter again!

Rat Control 101

Why are there so many cats in Amsterdam, you may ask? Well, in order to answer that, we have to look at the city's history and geography. Amsterdam is famous for its canals, and with lots of picturesque bodies of water running through your town, you also attract rats. Lots of rats. And not the cutie patooties you can keep as a pet. Think less "Ratatouille" and more, like… THE PLAGUE. Plague rats. No bueno.
Amsterdam was one of the biggest trading cities back in ye olden times, and as such, the bubonic plague was a big problem during the 1600's. Ships were constantly coming and going, and bringing plague rats with them. Just like Master Splinter, these rats lived in whatever sewage system/underground burrow/canal they could find. Thusly, the people of Amsterdam quickly learned the value of keeping a cat around, being as that a rat's biggest predator is Snowball. To this day, cats are seen not only as fierce little anti-plague protectors, but snuggly little companions as well.
Amsterdam Street Cats Abound
The life of a street cat in Amsterdam is good, to say the least. I encountered THREE feral babies in just one day, and every single one of them was evidently used to humans doting on it with tummy rubs, affection, and words of affirmation. I'm not being facetious in the slightest when I say that almost every bar/restaurant/cafe/bakery has either a resident cat, or encourages street cats to "stick around" by feeding them teeny kitty morsels as payment for their rat control services.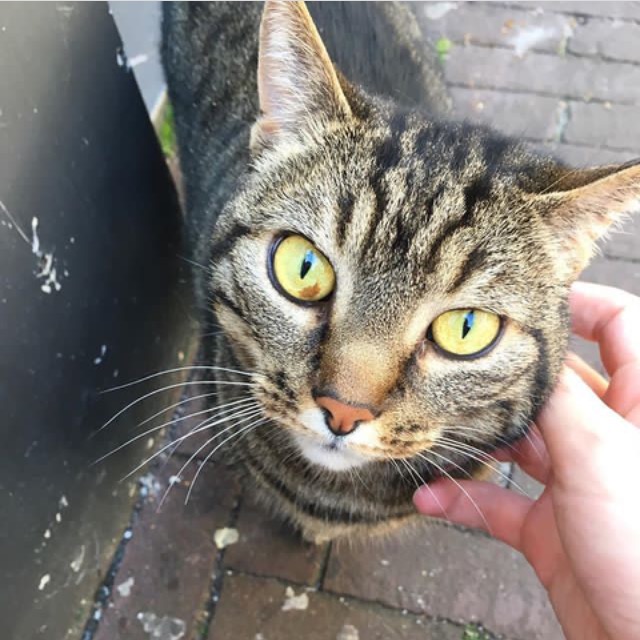 In fact, the affinity for cats in Amsterdam is such a major factor in the day-to-day life of locals that there is an entire book dedicated to it entitled Amsterdam Pub Cats: And Other Feline Purrsonnel, which includes detailed profiles of some of the city's official and unofficial kitty employees whose job it is to keep the rats at bay and be perfect and adorable. Perhaps you may be thinking, "Ew! Dio, you mean people just let cats walk freely around bakeries and other places where there's FOOD? Isn't that a health code violation?" Well, every precaution is taken to maintain a clean environment for food serving and preparation, and, you know what else is a health code violation? THE BUBONIC PLAGUE, FRIEND. So worry not, your food and libations are safe.
Check out KattenKabinet: The Cat Museum
But the love of cats in Amsterdam doesn't stop there. If finding a plethora of friendly cats waiting for you wherever you go isn't enough to convince you that Amsterdam is a must-see stop for cat lovers, consider this: a cat museum. That's right, a museum entirely dedicated to cats.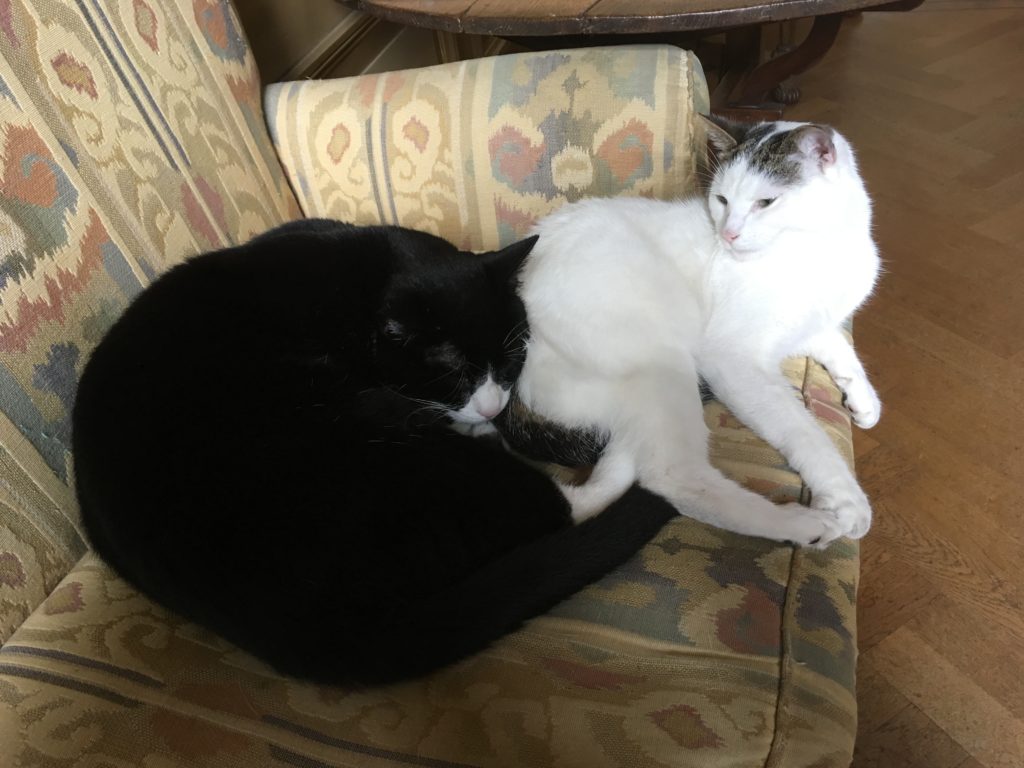 In 1990, the historical building (located on the "Golden Bend" of the canal on Herengracht) that houses The Cat Cabinet (or KattenKabinet) was established as an art museum in honor of owner Bob Meijer's late tomcat John Pierpont Morgan (named after banker J. P. Morgan). Every piece of artwork inside is, in some way, cat-related.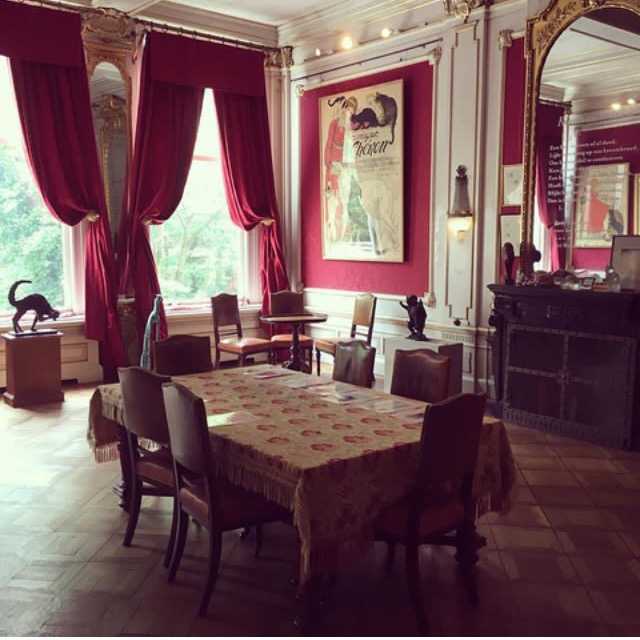 The collection boasts pieces from original Picasso sketches, to Steinlens, to Rembrandts, to Lautrecs. But there is more to behold than just paintings. One of the more quirky pieces on show include Grizabella's costume from the musical "Cats" (based off of T. S. Eliot's book, Old Possum's Book of Practical Cats).
There's even a table in the entrance filled with notes from visitors; something like a guestbook, but with drawings of and "notes" from the patrons' cats. (Of course, I left a little cartoon Marzipan to grace the collection.) And just to add that extra bit of ambience, the building is currently home to four precious real-life cats who are as personable as they are adorable.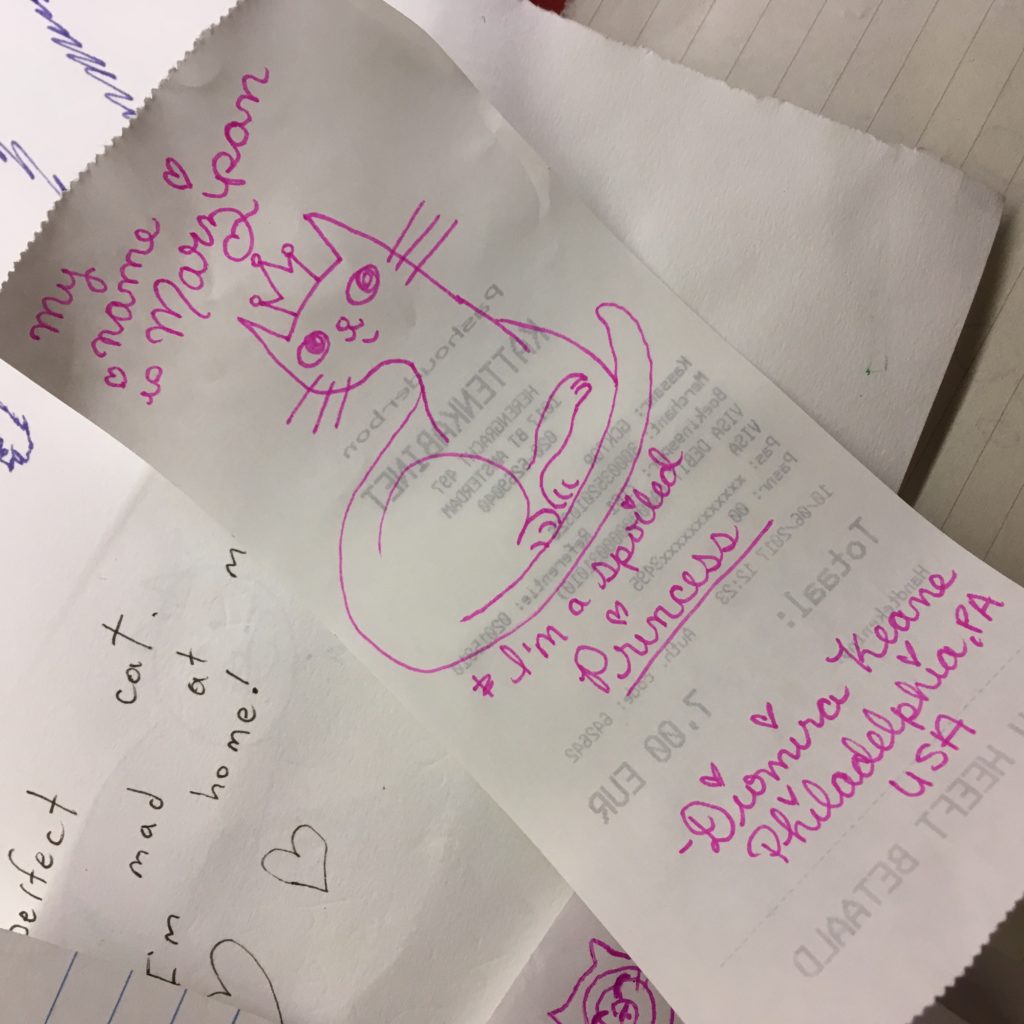 So what say you? Ready to jump on the next ship to Amsterdam yet? If so, your one greatest challenge may be to try to resist the urge to take home all the street cats, or muster the gumption to ever leave KattenKabinet. At least, I know that's what it was like for me!
Save
Save
Save
Save
Save
Save
Save