Had a hard day, or a week full of them? Do you need some relaxation stat? I've got the perfect medicine for you, no prescription required.
Kitten Livestreams.
Introducing CatGenie
The World's Only Self Washing Cat Box
Click here and never touch cat litter again!

You read that right – there are kitten livestreams on the Internet, and you could be watching them right now! I'm highlighting three of my favorites that I think you'd enjoy too, so read on to discover the next best thing to live kitten cuddle time.
TINYKITTENS HQ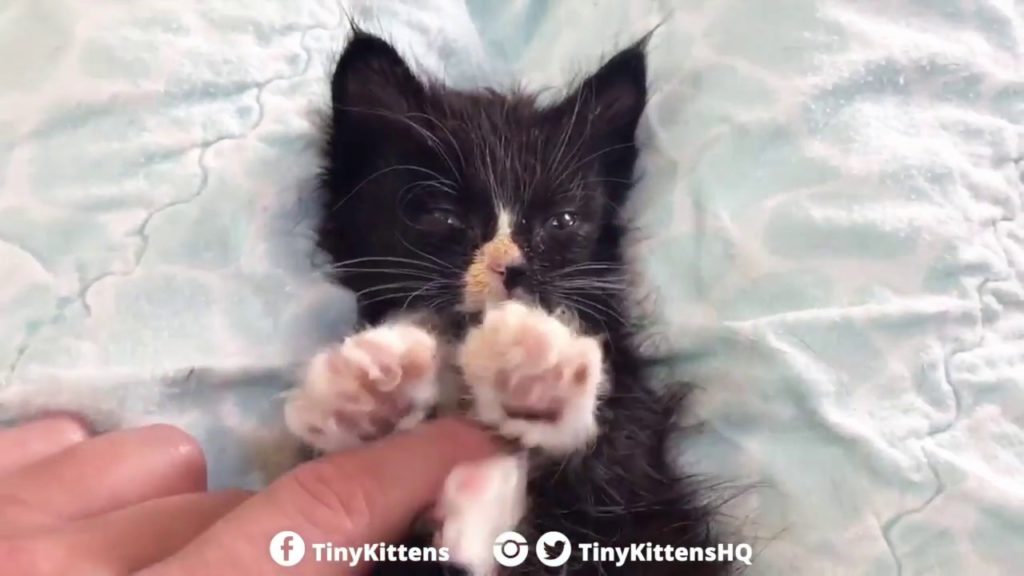 TinyKittens HQ is the YouTube channel for the TinyKittens Society, a volunteer-run non-profit group operating in Canada. Right now, they have two live streams – one is for mama cat Corsica, a four-year-old feral kitty rescued from land that has become a common dumping ground for abandoned cats. They broadcast the birth of her kittens – what they believe to be her twelfth litter! – and have kept the webcams rolling so everyone can watch the kittens grow. (And they got that poor mama fixed – no more buns, her oven is off!)
They're also livestreaming "Surprise Ferocious Feral Kittens!", a group of four young cats who survived twelve days without their mother before being rescued by the owner of the barn they were nesting in.
At TinyKittens they care for a feral cat colony, feeding them, getting them fixed, and even finding them homes by asking the Internet for help. Happily, we of the Internet are more reliable than Obi-Wan Kenobi. Since they started, they've helped 172 cats and kittens find a home.
They foster pregnant ferals, rehabilitate injured feral cats, engage in TNR (Trap-Neuter-Return), and more – using donations from various parties, including members of their VIP group. (Joining their VIP group gets you extra videos, "field trips," and the warm fuzzies of doing something wonderful.) They're an amazing institution, and one of the most popular rescues around with over 35,000 subs on YouTube (and over 1 million likes on Facebook!).
KITTEN CUDDLE ROOM
The Kitten Cuddle Room is currently broadcasting the super-playful litter of Harlequin, a mom cat rescued by Kitten Rescue Los Angeles and fostered by Sarah (who runs Kitten Cuddle Room). They'll be going for spaying and neutering soon, so these adorable bundles of black and orange and calico are up for adoption by Los Angeles-adjacent folk. (Note that they adopt in pairs! Like the old man in Hyrule said, it's dangerous to go alone.)
Sarah has had her YouTube channel since 2013, broadcasting a series of fosters to over 5,000 subscribers. She works with Kitten Rescue Los Angeles, another non-profit volunteer-run organization – and one that has rescued over 17,000 cats since it began 20 years ago! Follow along with a series of precious babies as they grow up and find homes, and read more about Kitten Rescue Los Angeles here.
KITTEN ACADEMY
You know what I do each morning? I get up. (Worst part, am I right?) I make breakfast, and then I settle on to the couch to watch Kitten Academy's close-up stream from the night before. (This is the best part.) And I'm far from alone! With over 217,000 YouTube subscribers – and nearly 1000 patrons on Patreon paying over $4400 per month – Kitten Academy is one of the most successful cat live streams I've seen. And it's all a labor of love by Mr. A and his wife DJ, who maintain an impressive suite of rooms "where kittens learn to cat."
They have plenty of "faculty," too (including one very sweet doggo!), so their kittens even have a chance to socialize with strange adult cats before going on to their forever homes. All the money and gifts they receive are funneled right back into these rescued cats, and the love is spread around.
Besides the daily close-up stream I mentioned above, Kitten Academy broadcasts their classes 24/7 on their main live stream. Kitten Academy has been streaming for a little over a year and works with On Angels' Wings in Crystal Lake, Illinois.
I've actually watched a series of adorable kittens gambol the entire time I wrote this article for you! Mr. A and DJ really make you feel like you've been welcomed into their home and given this special task of helping these kittens get started on great lives. It feels like a privilege – and it is.
If you'll excuse me, there are some ridiculously charming kittens to be watching. Join me, and let the warm fuzzies flow through you.
Save
Save
Save
Save
Save
Save
Save
Save
Save