For those of you who have ever taken home a particularly rambunctious kitten, you know all too well what it means to get suckerpunched by a tiny fur ball who's gotten just a little too zealous with his rough-housing. Especially when it's 4 a.m. and you have to get up for work in three hours. Isn't kitty parenthood FUN? Aren't you having FUN? This is FUN! Tiny baby kitten nails in your eyelids! Waking you up from that wild dream you were having about paying off all your student debt! KITTENS! They're the gift that keeps on giving.
Play Aggression
You may be unsurprised to learn that this behavior is known as "play aggression". Put simply, "play aggression" is the term used to gauge when a cat or kitten gets a little too worked up during playtime. When cats play with each other and their human caretakers, they… how should I say, "draw inspiration" from their natural hunting instincts. Just like wildcats, cat parents encourage their offspring to fine-tune their hunting techniques by playing with them and challenging them for the benefit of their survival.
Introducing CatGenie
The World's Only Self Washing Cat Box
Click here and never touch cat litter again!

However, this aggression can be curbed with the right amount of dedication, as your ramshackle apartment is a far cry from the jungles of, you know, wherever. "THIS AIN'T JUMANJI!" you may find yourself yelling to the ceiling, peeling your new family member off your face while she takes a gratuitous amount of forehead skin with her. And you're right! But Honeycakes over there with her needle-like claws and voracious appetite for pouncing on things doesn't seem to know the difference, so it's your job to teach her.
How To Deal
Now that you know the reason for your bumble bean's behavior, you've taken the first step in fixing the problem. Step two is as follows: DON'T ENCOURAGE IT. Man, you would not believe how often a simple approach like this goes unaddressed. Don't engage with your cat when she's getting rough with you. Show disinterest. Walk away from her. DON'T egg her on and rile her up even more. For instance, when you go to pet your kitty baby and she starts to chomp down on your hand, pull your hand away, and keep it away from her. Don't engage with her during playtime using your hands. Instead, give her a toy to play with. Wrestling with her using your hands and arms will only reinforce the idea that they are play things, and the next time you go in to pet her, she will mistakenly assume it's playtime, every time.
Remember, she's not just going to "grow out of it" if you encourage her to keep doing it. The kitten years are the most formative, and the behavior she learns as a kitten will be taken with her well into adulthood. It is much easier to put an end to undesired behavior during these years than it is trying to get a full-grown cat to readjust (though it is still possible).
Kitten V. Kitten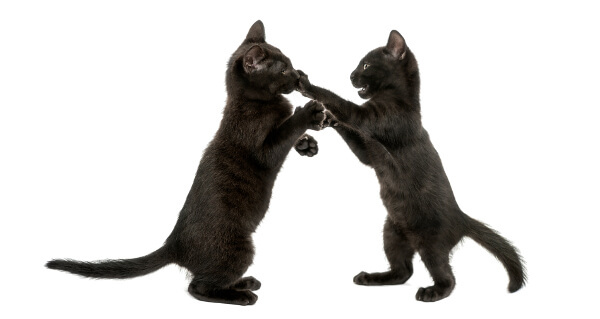 So, that sounds easy enough. But what if you've got two kittens, and they're going at it with each other? First step: establish who the instigator is. When my boys Danger and Pushkin were tiny little tater tots, Danger ADORED his little brother, and wanted to show it every chance he got by hurling himself across the room and sneak-attacking Pushkin at every given opportunity. Pushkin, a mellow young chap by nature, had no choice but to bear the brunt of his brother's insistent invitations to go full-frontal smackdown. Identifying the instigator is key to solving the problem. In this case, a simple time-out will do. Shoo the instigator away, and remove his perilous victim from the scene for about a minute or so. While they're separated, this is an excellent time to execute the next step.
Redirect The Aggression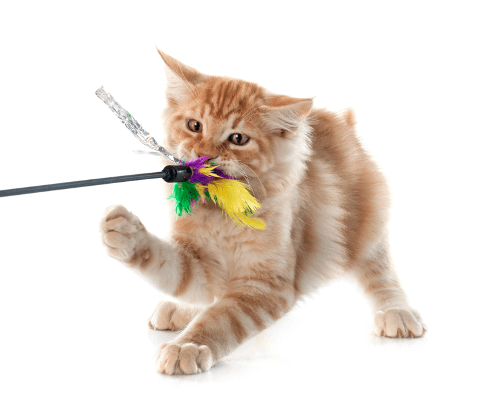 As I've said before, cats LOVE to redirect their aggression. When a cat or kitten is getting too rough, redirect that energy into something he's actually supposed to tear apart, like a cat toy. Over time, this will teach him that when he's in the mood to play, he has something at his disposal to release that energy on to. And, more importantly, that that thing is not his brother or, say, your hand/face/leg, etc.
So, what did we learn today? First, address the problem of play aggression. Do not engage with a kitten who's playing too rough. If he's attacking another animal, identify the instigator and break it up. Shoo the aggressor away and remove the other animal from the scene. Lastly, redirect that aggression onto something he's allowed to play with.
Playtime is essential in raising a healthy cat, and spending quality time with her, engaging with her and allowing her to release her primal energy is integral to keeping her behavior in check. Without enough playtime, cats can become stressed, depressed, or even hostile. Make sure your cat gets enough opportunities to play with you and/or her siblings, but in a healthy way that doesn't leave any permanent scars or damage. She'll thank you for it. Heck, even 4 a. m. you will thank you! Go back to dreaming of that debt-free life, you stellar cat parent, you!
Save
Save
Save
Save
Save
Save
Save
Save
Save